Stable Cell Line Generation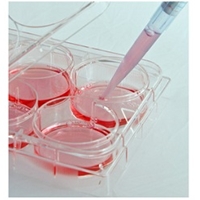 Cellomics Technology, LLC provides high quality, fast turnaround and cost-effective stable cell line generation service for research, biotechnology and pharmaceutical companies.
Our solid expertise in lentiviral technology enables us to efficiently generate stable cell lines in virtually any type of cells, including primary cells and cells which are difficult to grow. An almost unlimited number of stable clones can be generated with lentiviral vectors. Our expertise in achieving high efficiency of stable transduction allows us to isolate stable cell clones with different target gene expression levels in order to meet the requirements of reporter cell line, protein expression cell line, and gene knock-down cell line.
Please use the form below to request further information about this service.
Our stable cell line generation service includes:
Phase I. Construct Generation (optional):
Our scientists will generate constructs for your project. Your target gene will be cloned into the lentiviral transfer vector you selected. Lentivirus will be produced, concentrated and titrated after the accuracy of the construct is confirmed by sequencing. Phase I will normally take about 3-4 weeks. We can also generate non-lentiviral vector constructs for your project if needed.
Phase II. Stable cell clones selection:
Perform transduction on target cells, select stable transduced cell clones. Phase II takes about 1-3 weeks depending on cell growth and antibiotics for selection.
Phase III. Gene expression evaluation:
To evaluate the gene expression in stable transduced cell clones, our scientists will perform one or several assays including Western Blot, ELISA, real-time PCR, or reporter assays, etc. Phase II usually takes about 2 weeks.